A few days ago Tom and I were driving in the car together, as we often do, when Tom turned to me and asked, "do you want to go see Legally Blonde at Proctor's Theater?" That came out of no where. So I asked if he had won tickets or something. Why else would he want to go to the theater? Come to find out, he just thought it would be a nice thing to do together.
Since our plans were to stay home this year finding tickets for Thanksgiving evening was perfect. What made it even better? They were half price.
So after dinner we headed out to the show. And it was so much fun…definitely got a round of snaps from us. And for a charitable donation I had my picture taken with this little nugget…the UPS guy*!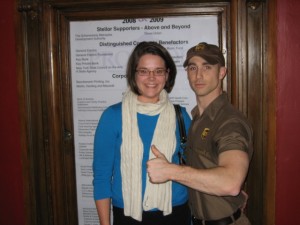 In the morning Tom is back to work and I am headed to see my parents and do a little a lot of shopping at Lord & Taylor (in that order of course).
*Ven Daniel