As our dog Chyna followed Tom curiously into the empty TV Room Tom looked at her and explained, "It's project day Chyna, project day." That really cleared things up for her. The TV room was empty because one of the projects was to repair some chipped paint. Tom hauled everything out of the room and worked on the pesky spots. I went out for coffee and organized the guest room closet. While the first coat of paint was drying Tom announced that he didn't like the TV Room rug and he wasn't going to put it back in. So we went shopping for a new one. Tom picked out this hot number at Pier 1 with the help of an 80% discount. I taught him well.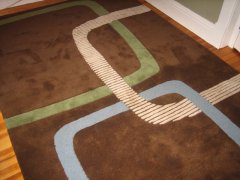 We did yard work on Sunday. I mowed the lawn for the second time ever. I don't vacuum* in straight lines and I don't mow in straight lines either. But the neighbors didn't complain. They did however complain about our exterior paint job. So before the summer is over our project day will have to move outside. But that's a story for another day.
And since Tom took the whole week off from work the projects didn't stop there. Back in December 2004 my parents bought us interior lighting for Christmas. An overhead light for our living room and a chandelier for the dining room. And today they were mounted to the ceiling (by an electrician**). Let's do the math…2.5 years…it took 2.5 years for us to pick up the phone and call an electrician to install two light fixtures, how embarrassing. On the bright side Tom threw in the added bonus of buying and installing new face plates for the light switches, nice touch.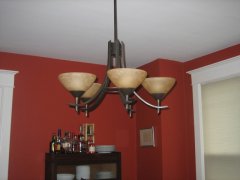 With Tom home we also made an appointment with our Veterinarian to come over and give our dogs their shots. Yup, our vet makes house calls. How cool is that? And the pooches are in perfect health. Even cooler.
When it comes to household projects Tom and I aren't big fans. But it sure did feel good (and cost a small fortune) to cross a couple of "to-do's" off our very long list. A freshly painted wall, wicked cute new rug, organized guest room closet, healthy dogs and light. Isn't this what everyone does before going on vacation?
*To be fair that sentence could have stopped at "I don't vacuum."
**Yes we (eventually) called an electrician to install two lights and do a couple other electrical odds and ends. We tried doing the lighting ourselves but we live in an old house and the lights were made for a new house and we sort of hit a road block with that. If that doesn't sum up how little Tom and I know about that type of stuff I don't know what does. But hey, if you want to go wireless you know who to call.